Description
What are Catch-up Readers?
Catch-up readers are decodable, systematic phonic reading books for older readers
Interest Age: 8 to 14+
80% of struggling readers have a gap in phonics knowledge. Phonics books fill in these missing gaps. They are designed for older students who may have already experienced reading failure. Since many of these students also experience loss of confidence and low self-esteem, Phonics Books develop confident, independent reading strategies.
Included in each series:
Systematic (sequenced) phonic progression

Age-appropriate illustrations and story lines

Reading practice page which prepares the student for reading the text

Vocabulary page to develop receptive and expressive language

Reader-friendly layout
Each of the series engage students in action-packed stories, while introducing step-by-step decodable phonics skills. Each series is supported by a photocopiable workbook (sold separately) that provides a variety of skill based activities.
To view the PhonicBooks Scope & Sequence, click the photo below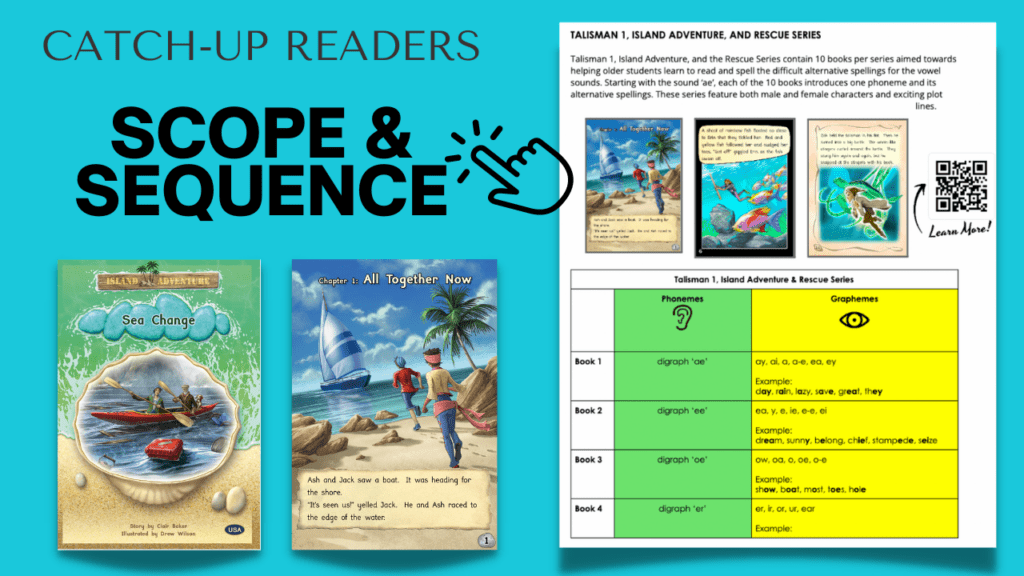 Island Adventure Book Series
Written by Clair Baker and Illustrated by Drew Wilson
Jack and his little sister, Snub, are visiting Gran and Grandpa on the remote Scottish Island where they live.  An accident brings them closer together, but a subsequent event starts an exciting adventure, changing all their lives forever.

This series shares the same phonic progression as both the Rescue and Talisman 1 Series and can be used in parallel.  Island Adventure is a 10 book series aimed towards helping older students learn to read and spell the difficult alternative spellings for the vowel sounds. Starting with the sound 'ae', each of the 10 books introduces one phoneme and its alternative spellings. With both male and female characters, the Island Adventure series is sure to appeal to boys and girls alike. This action-packed series features one continuous story when read in sequence, with the conclusion in the final book.
Subject/Genre: Adventure
Ages: 8-14
Interest Level: Grades 2-8
Books: 10 Decodable Books Sold Together as a Complete Series
Phonic/Spelling Skills Taught
Book 1: ae, ay, ai, a, a-e, ea, ey

Book 2: ee, ea, y, e, ie, e-e, ei

Book 3: ow, oa, o, oe, o-e

Book 4: er, ir, ur, or, ear

Book 5: ow, ou & oi, oy

Book 6: oo, ue, u-e, ew, ou, u

Book 7: igh, ie, i-e, i, y

Book 8: aw, awe, a, au, al, ough

Book 9: air, are, ear, ere, eir

Book 10: ar
Island Adventure Workbook (Sold Separately)
Catch-up reader workbooks are integral to the reading program as they include activities to support the learner.

This photocopiable workbook has 10 chapters of activities designed for older students, ages 8-14. This workbook corresponds directly to the 10 books in the Island Adventure book series, and includes activities for reading, spelling, and comprehension based on the characters and adventures in the Island Adventure series.
For help deciding which series to begin with, click the photo below for an assessment.