Description
STUDENT WORKBOOK LEVEL 1
ALPHABET KNOWLEDGE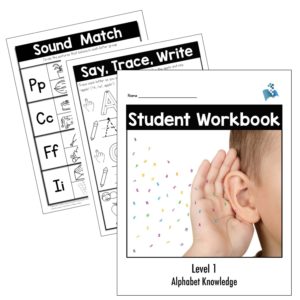 Imagine building a house.  Every house needs a sturdy foundation, otherwise the structure will fall apart.  Reading is much like building a house, and the foundation of the reading house is Phonological Awareness & Alphabet Knowledge.
Alphabet Knowledge is more than just knowing the letters and sounds of the alphabet.  It is about knowing those letters and sounds automatically.  This is the foundation for putting letters together to form words.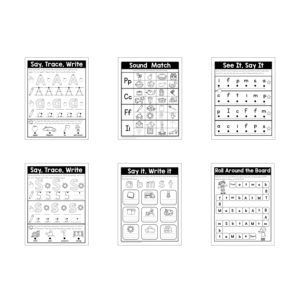 The Student Workbook Level 1 provides practice for developing alphabet knowledge.  In this workbook, the letters of the alphabet are divided into six sets. Each set has activities to help your student practice letter identification, letter sound association, automaticity, and writing letters.  These skills will help your student build a strong foundation for reading.
Order your workbooks today!
Please Note: The Student Workbook (Level 1) Alphabet Knowledge is a supplement to the curriculum found in Toolkit #1, but also works great when purchased on its own.  If using with a group or a whole class, it is recommended that each student have their own workbook.  
Canada customers please note:
INTERNATIONAL SHIPMENTS / DUTIES, CUSTOMS, & FEES
All international shipments sent by PDX Reading Specialist, LLC, are sent DDU "Delivery Duty Unpaid". International shipments may be subject to local duties, taxes (HST, VAT, etc.) and fees (such as brokerage fees). Shipping prices obtained through quotes or during the checkout process from our website do not include these duties, taxes, or fees. You, the receiver, may be contacted by customs or the carrier once the shipments arrives. It is the customer's responsibility to settle any charges to release the shipment. If a shipment is declined and returned to us (the sender) due to the failure to contact or pay duties, taxes and fees, the shipping fees originally paid to PDX Reading Specialist will not be eligible for a refund. No refunds will be applied until goods arrive back to us. Only goods that arrive back to us in the condition in which they were sent will be eligible for a refund (minus the shipping fees). Additionally, international shipments can take time to clear customs (up to 45 days) once they reach their destination country.