Description
6 Pack Magnetic Dry Erasers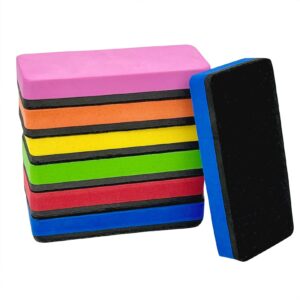 Can't get yesterday's notes off of your whiteboard?
The experience of learning and teaching is always better with the right tools and accessories. When utilizing visual aids such as whiteboards, for example, you should be able to express important ideas without a problem.
Unfortunately, it can be such a hassle to remove content from the marker board because your erasers fail to absorb all the ink. What you need is a highly absorbent and sturdy whiteboard eraser that can make your board look good as new every single time!
Clear the whiteboard and make way for new ideas with the help of our PDX Reading Specialist Magnetic Whiteboard Erasers Set!
Are you sick and tired of not being able to completely erase ink from the whiteboard? If yes, then you better make the switch to our reliable erasers. Each one is specially made from carefully crafted felt and foam, so you can be sure that they can effectively erase everything written on the board with ease!
Unlike some other erasers, our whiteboard erasers are fitted with magnetic components. The strategic feature lets you leave the erasers on the board after each lesson, so you never have to waste time and energy looking for misplaced ones.
To ensure you're always well-supplied with trusty whiteboard erasers for your classroom, meeting room, or home office, we bring you 6 pieces in each set.
✅  CLEAN BOARDS WITH EASE – Experience hassle-free after-meeting and after-school cleanup with our whiteboard erasers. 

✅  PERFECT FOR CLASSROOMS – Make marker boards, calendars, wipe-off boards, and whiteboards extra spotless with our magnetic eraser. You'll love how it's able to stick on compatible surfaces securely.

✅  LONG-LASTING ERASERS – Crafted from durable felt and foam, these non-toxic, reusable whiteboard accessories are tough against regular use. Only the back side with the felt bottom is magnetic. Plus, they're an absolute breeze to hand-wash and dry. To dry, place the felt down on a towel.

✅  A THOUGHTFUL & USEFUL GIFT FOR TEACHERS – Need to find a practical present for an instructor or a home school teacher? Get them a set of our dry-erase, mess-free magnetic board cleaning pads.

✅  100% SATISFACTION GUARANTEE – Designed to make cleanup easier for you, we're sure you'll be delighted with our magnetic whiteboard eraser set. But in case you're not happy with them, let us know.
Need more reasons to get this classroom and office accessory? Check out these great benefits:
✅  Compatible with metallic surfaces, refrigerators, and metal desks
✅  They're washable and reusable
✅  Perfectly sized for kids and adults
Have a smooth-flowing meeting every time. Add the PDX Reading Specialist Magnetic Whiteboard Erasers Set to your cart TODAY!

Canada customers please note:
INTERNATIONAL SHIPMENTS / DUTIES, CUSTOMS, & FEES
All international shipments sent by PDX Reading Specialist, LLC, are sent DDU "Delivery Duty Unpaid". International shipments may be subject to local duties, taxes (HST, VAT, etc.) and fees (such as brokerage fees). Shipping prices obtained through quotes or during the checkout process from our website do not include these duties, taxes, or fees. You, the receiver, may be contacted by customs or the carrier once the shipments arrives. It is the customer's responsibility to settle any charges to release the shipment. If a shipment is declined and returned to us (the sender) due to the failure to contact or pay duties, taxes and fees, the shipping fees originally paid to PDX Reading Specialist will not be eligible for a refund. No refunds will be applied until goods arrive back to us. Only goods that arrive back to us in the condition in which they were sent will be eligible for a refund (minus the shipping fees). Additionally, international shipments can take time to clear customs (up to 45 days) once they reach their destination country.