Description
6 Black Dry Erase Pocket Sleeve & Eraser Set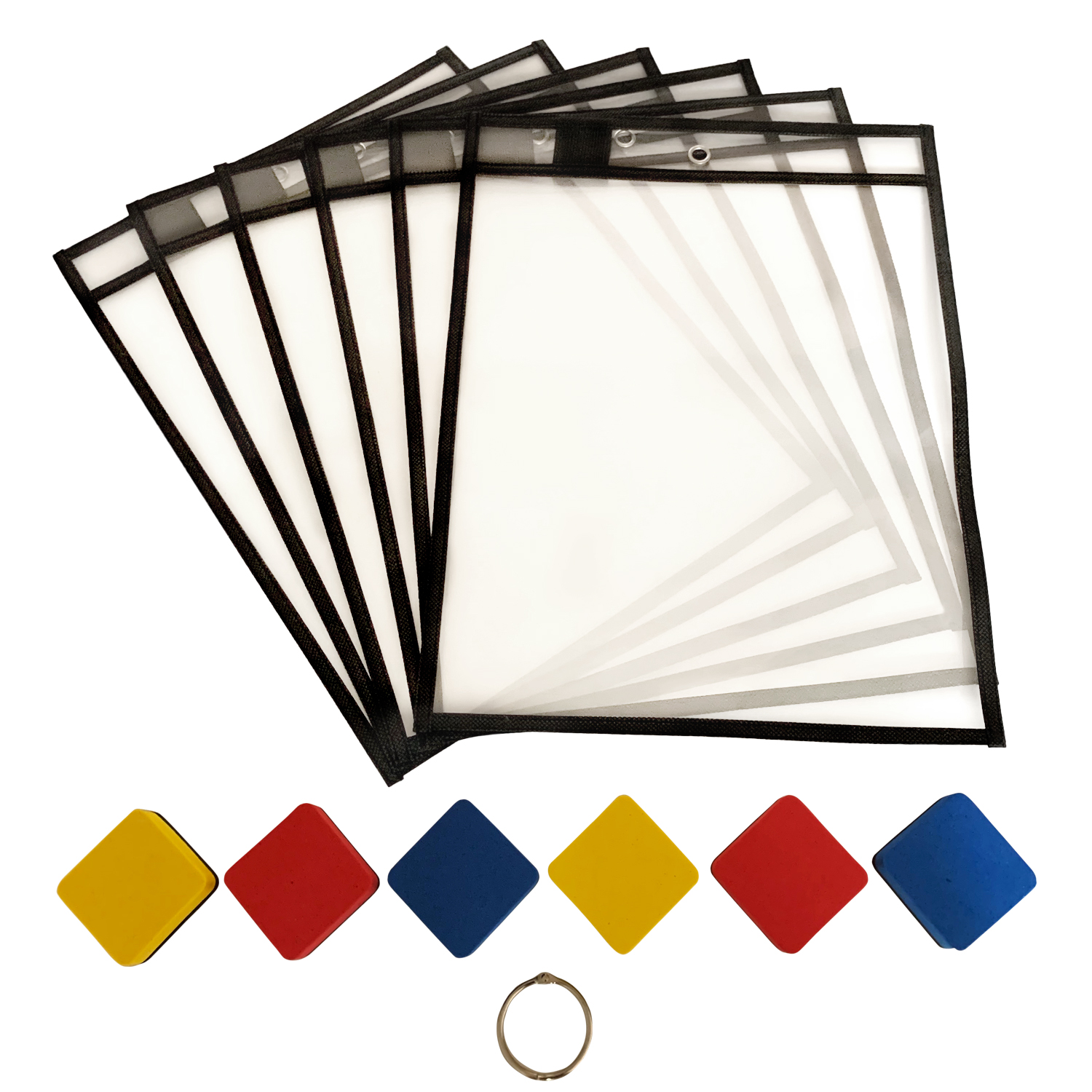 Do you want to cut paper consumption from your writing activities?
Worksheets and homework help students retain information, improve memory and critical thinking, and reinforce cognitive learning. However, aren't you concerned about all the papers thrown away in the process?
Make the most out of your learning exercises with our Dry Erase Pocket Sleeves!
✅  HASSLE-FREE WRITING & ERASING – Our pocket protector sleeves allow you and your student to write on and wipe off on both sides. Each sleeve has an eyelet in the corner for easy hanging.  Organize and hang them on the FREE book ring when not in use.
✅  HELP SAVE THE ENVIRONMENT – Think about all the paper you have used in the past.  With our reusable dry erase pockets, you significantly cut your costs on worksheets while reducing your paper consumption.  This makes it a win-win for you, your students, and the environment!
✅  NO MORE PRINTING OF WORKSHEETS OVER AND OVER AGAIN – Simply insert them in the pocket sleeves and have your kids write, trace patterns, draw and answer your prepared activity. When done, just wipe off with one of the included erasers and they're good as new for the next batch of learners.
✅  VERSATILE USE – Aside from writing, classroom, and instructional needs, you can also insert important documents, shop tickets and files in our oversized pocket folders to help keep them protected.
✅  MULTIPURPOSE DRY ERASERS – Quickly remove marks of dry erase markers using the 6 square erasers that are included. The erasers are equipped with magnets inside, which makes for easy storage on whiteboards and all metal surfaces. The erasers are the ideal size for children's hands (2 x 2″), but are also convenient for adults to use too.
Here are more reasons to to choose our sheet protectors:
✅  Our 10" x 13" sleeves are larger than many other brands.
✅  Each sleeve comes with an eyelet in the corner for easy hanging.
✅  Doubles as a clear document holder
✅  1 Book ring compiles and organizes the sleeves for safekeeping.
✅  Each set includes 6 erasers
Canada customers please note:
INTERNATIONAL SHIPMENTS / DUTIES, CUSTOMS, & FEES
All international shipments sent by PDX Reading Specialist, LLC, are sent DDU "Delivery Duty Unpaid". International shipments may be subject to local duties, taxes (HST, VAT, etc.) and fees (such as brokerage fees). Shipping prices obtained through quotes or during the checkout process from our website do not include these duties, taxes, or fees. You, the receiver, may be contacted by customs or the carrier once the shipments arrives. It is the customer's responsibility to settle any charges to release the shipment. If a shipment is declined and returned to us (the sender) due to the failure to contact or pay duties, taxes and fees, the shipping fees originally paid to PDX Reading Specialist will not be eligible for a refund. No refunds will be applied until goods arrive back to us. Only goods that arrive back to us in the condition in which they were sent will be eligible for a refund (minus the shipping fees). Additionally, international shipments can take time to clear customs (up to 45 days) once they reach their destination country.