Description
Prefixes & Suffixes Magnets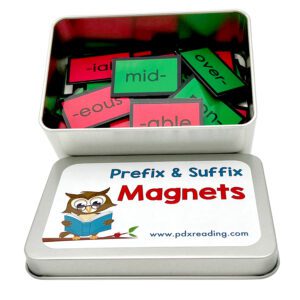 The Magnet Set Includes:
51 Magnets

Color Coded
Each Magnet is 1″ x 1.5″

Magnets Include:

20 most common prefixes and suffixes

Prefixes: anti, de, dis, em, en, fore, il, im, in, inter, ir, mid, mis, non, over, pre, re, semi, sub, super, trans, un, under
Suffixes: able, al, ed, en, eous, er, es, est, ful, ial, ic, ible, ical, ing, ion, ious, ity, ive, less, ly, ment, ness, or, ous, s, ty, y

Tin Case for easy magnet storage
CLICK THE THUMBNAILS BELOW TO VIEW OUR INSTRUCTION GUIDE & DEMONSTRATION VIDEO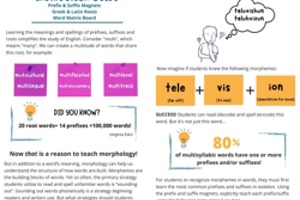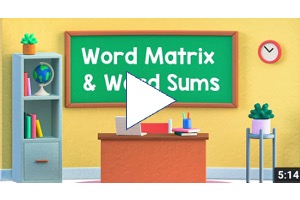 Canada customers please note:
INTERNATIONAL SHIPMENTS / DUTIES, CUSTOMS, & FEES
All international shipments sent by PDX Reading Specialist, LLC, are sent DDU "Delivery Duty Unpaid". International shipments may be subject to local duties, taxes (HST, VAT, etc.) and fees (such as brokerage fees). Shipping prices obtained through quotes or during the checkout process from our website do not include these duties, taxes, or fees. You, the receiver, may be contacted by customs or the carrier once the shipments arrives. It is the customer's responsibility to settle any charges to release the shipment. If a shipment is declined and returned to us (the sender) due to the failure to contact or pay duties, taxes and fees, the shipping fees originally paid to PDX Reading Specialist will not be eligible for a refund. No refunds will be applied until goods arrive back to us. Only goods that arrive back to us in the condition in which they were sent will be eligible for a refund (minus the shipping fees). Additionally, international shipments can take time to clear customs (up to 45 days) once they reach their destination country.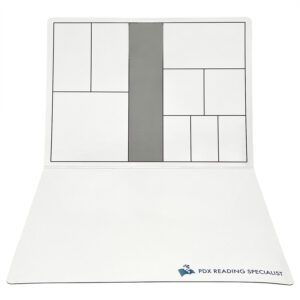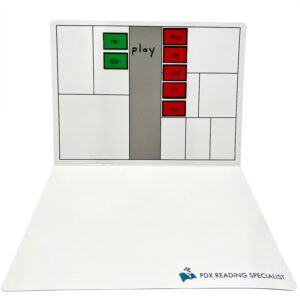 Fold and Go: The Foldable Dry Erase Board unfolds to a spacious 18″ x 12″, but closes to a compact 9″ x 12″ when folded. Great for when you are on the go.
Ready Made Matrix: Write a free base (such as "play") or place one of the magnetic Latin or Greek roots (such as "struct"-SOLD SEPARATELY) in the shaded area. Add prefixes and suffixes to the base to create words.
Use with Dry Erase Markers: Perfect for sharing ideas and getting organized; ideal for home, school, or office
Wipes Clean:The smooth, durable writing surface erases easily.