Description
Student Workbook Level 1
Alphabet Knowledge
(DIGITAL VERSION – Available for immediate download upon purchase)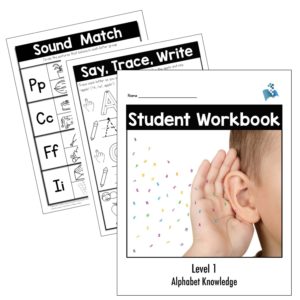 Imagine building a house.  Every house needs a sturdy foundation, otherwise the structure will fall apart.  Reading is much like building a house, and the foundation of the reading house is Phonological Awareness & Alphabet Knowledge.
Alphabet Knowledge is more than just knowing the letters and sounds of the alphabet.  It is about knowing those letters and sounds automatically.  This is the foundation for putting letters together to form words.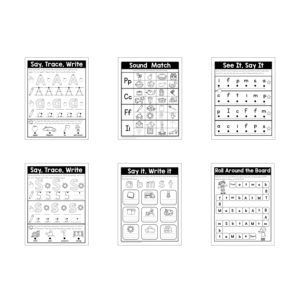 The Student Workbook Level 1 provides practice for developing alphabet knowledge.  In this workbook, the letters of the alphabet are divided into six sets. Each set has activities to help your student practice letter identification, letter sound association, automaticity, and writing letters.  These skills will help your student build a strong foundation for reading.
Order your workbook today!
Please Note: The Student Workbook (Level 1) Alphabet Knowledge is a supplement to the curriculum found in Toolkit #1, but also works great when purchased on its own.  If using with a group or a whole class, it is recommended that each student have their own workbook.