Description
MIDSIZE POCKET CHART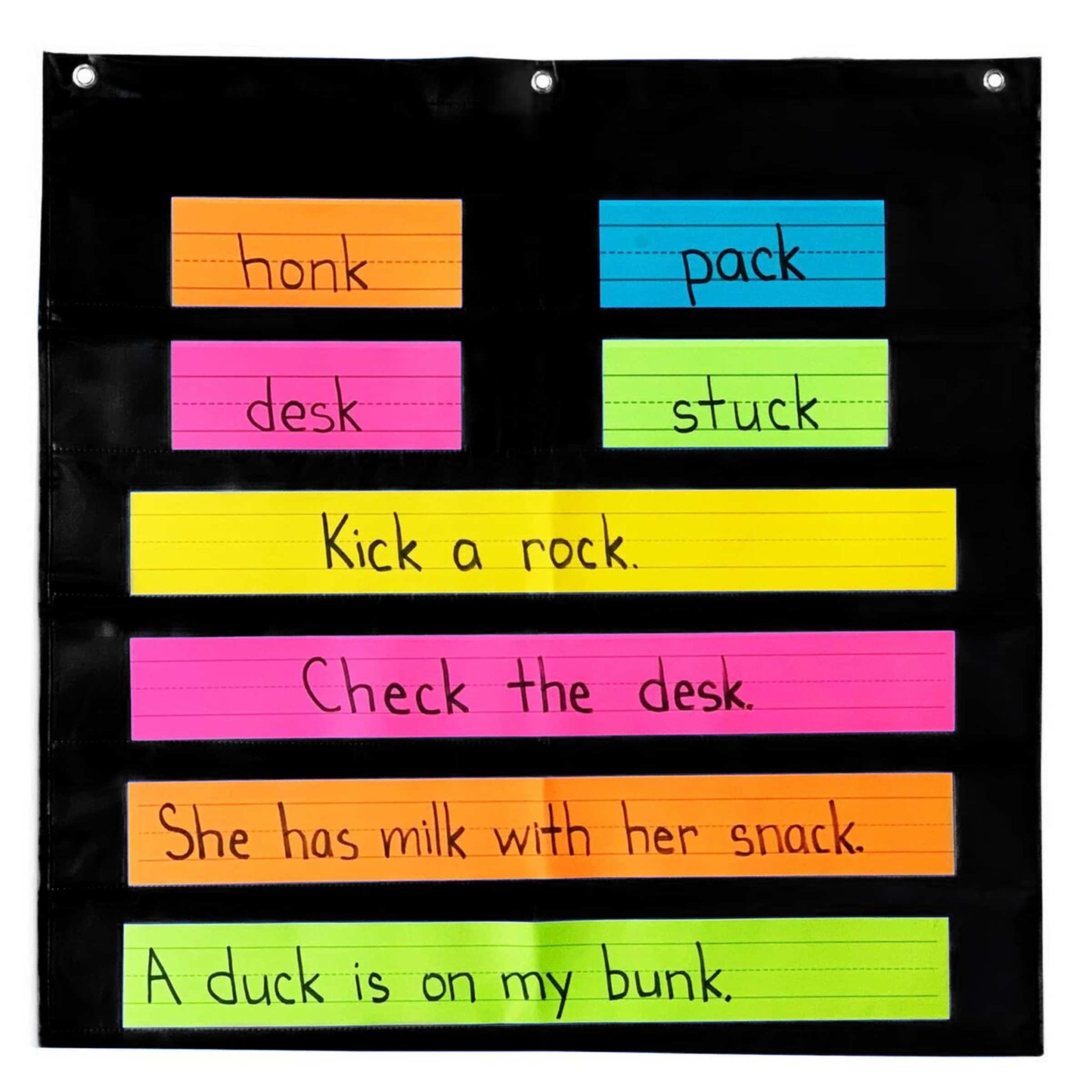 Is your child having a hard time learning words, letters and numbers?
Children learn in different ways. While some pick up lessons immediately, others need more time and effort to comprehend completely. Some students are visual while others understand just by listening.
While there is no right and wrong, visual learning is an effective method for helping kids grasp information and retain the new knowledge they acquire. Whether it is an image, word or sentence, visuals make learning more interesting and exciting for children!
Help your child absorb knowledge in a fun and effective way with the PDX Reading Specialist Pocket Chart!
We strongly believe in the benefits of visual aids so we created a chart that can help build interest and engagement among children. The chart has 6 rows of clear pockets which can hold visual learning cards. You can easily change and flip the cards and leave them held up for your child to look at and connect with.
We made the pockets bigger to fully accommodate cards and strips. This way, they won't easily fall off and will stay flat against the wall. The 3-inch pocket also gives enough room and support for longer or taller cards.
Our chart is ideal for classroom and homeschool set-ups. You can let a child play around with it, forming sentences and solving mathematical equations through sentence strips and flash cards. Now, isn't that fun and exciting?
???? PERFECT CLASSROOM & HOMESCHOOL TEACHING AID – In a class or home setting, teachers and children highly benefit from a chart with pockets. It helps enhance interest, engagement, and the learning process.
???? GREAT FOR SPECIAL EDUCATION – For children with dyslexia, ADHD, autism and other learning challenges, our well-designed pocket chart is a creative and interactive educational tool that supports learning!
???? STRONG & STURDY MATERIALS – The clear, well-stitched pockets on the nylon background are durable enough to hold sentence strips, flash cards, cutouts, and other learning items and resources.
???? LARGER POCKETS THAN OTHER CHARTS – No more falling cards or strips! Each of the six pockets in our hanging chart is 3 inches deep to make sure that each item you insert stays put and protected.
???? MULTIFUNCTIONAL WALL ORGANIZER – Add the pocket chart to your classroom supplies or use it as a caddy or holder for small items like a cell phone, headphone set, calculator, keys, and more.
ADDITIONAL BENEFITS OF THE POCKET CHART:
???? Sized for both classroom and at home use at 27 3/4″ x 27 3/4″
???? Easy to hang and set up
???? Made of strong and durable materials
???? Long-lasting build and design
Give your youngster the gift of education with the help of the PDX Reading Specialist Pocket Chart. Click on "add to cart" TODAY!
Pictured cards, sentence strips, and hanging hooks are not included.