Description

Itchy's Alphabet® Blackline Master 8
Accuracy and Automaticity Drills for short vowels
According to many experts, children must be accurate and automatic with their skills before they will read with fluency and comprehension. All too often, we teach the skills and then jump to fluency without providing children, especially those who struggle, with the practice they need to get their recognition to an automatic level. These drills provide children with the opportunity to develop accuracy and automaticity with the consonant sounds, short vowel sounds, and any consonant-short vowel combination, including blends, digraphs and 2-syllable words (24 drills in total).
This 28 page package contains accuracy and automaticity drill sheets for consonants, vowels, consonant – vowel pattern (ba, re, etc.), individual short a, e, i, o, u words, all short vowel words, nonsense short vowel words, and short vowel words containing consonant blends and digraphs.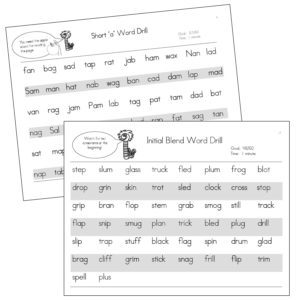 Contains:
Accuracy and Automaticity Drill Sheets for:
Consonants and short vowels
Consonant-vowel pattern (ba, re)
Individual short a, e, i, o, u words
All short vowel words
Nonsense words
Consonant blends and digraphs
2-syllable short vowel words
Record Keeping & Graphing Sheets
This item is sold as a digital download, that will be instantly available for download after purchase.
About Itchy's Alphabet® Phonics learning tools
About Itchy's Alphabet®
Itchy's Alphabet® phonics program was developed by Brenda Larson, M. Ed, and evolved through the thirty four years she worked with children who struggle to learn their letter sounds. These children had been taught the sounds and letter formations in the regular classrooms, using various programs, but had not achieved mastery and were referred for Learning Assistance support.
Armed with the knowledge that over 80% of individuals are visual learners, Brenda started drawing pictures, in the shape of the letters, to give children a visual cue to remember. Not only did the students show improved mastery of their sounds, they were also able to retrieve the shape of the letter by remembering the picture cue – spelling and printing both improved. In "Just the Facts", an information sheet published by The International Dyslexia Association, they state, "Sound-symbol association must be taught (and mastered) in two directions: visual to auditory and auditory to visual." Itchy's Alphabet® is a unique phonics learning product in providing this dual – modality learning process. The visual and auditory reinforce each other, enhancing the ability to master both!  David Kilpatrick, Ph.D., says "using pictures in which the letter can be logically or meaningfully embedded appears to be more effective than learning letters by themselves or with nonembedded keyword pictures."  He went on to say, "One set that proved successful in a research study (DiLorenzo et al., 2011) is called Itchy's Alphabet.  It is one of the few full sets commercially available.
Itchy's Alphabet® Info Sheet
NOT JUST ANOTHER ALPHABET – Itchy's Alphabet is a systematic program to teach letter sounds and letter formations.
Unique pictures in the shape of each letter give children a cue to remember both the sound and the shape of the letter simultaneously, thus enhancing learning.
Designed specifically for children who struggle.
Picture cues are clear, attractive and uncluttered – the simplicity of the picture/letter connection makes it especially suitable for struggling learners.
A multi-sensory approach – the majority of people are visual learners and the visual cues create a connection to the auditory task of learning sounds.
Current research indicates that systematic phonic instruction is necessary for successful reading (National Reading Panel findings).
The order of presentation of letters (Logical Letter Formations) is based on the concept of building on prior knowledge – a basic premise of teaching.
Emphasizes letter sounds (not names) and lower case letters.
Teaching Guide features a children's story to introduce each picture cue as well as Phonological Awareness activities for each story and lists of words to read/spell.
Blackline Masters 6 and 7 are some of the most effective programs for correcting common letter reversals that are available on the market.
Accuracy and Automaticity drills develop instant word recognition skills using a fun, one-minute timed drill format.
"Thank you so much! I have a boy who's been struggling with eight of his letters and the six that I targeted this week, with these pictures, he knows now. Amazing!"
Rachel J, Utah
ENJOY USING YOUR ITCHY'S ALPHABET® PHONICS PRODUCTS
THE BEST START to letter sound learning!