Description
Dyslexia Toolkit Level 1
Phonemic Awareness & Alphabet Knowledge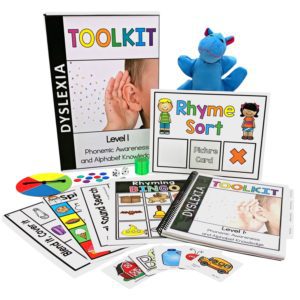 In 2017, the Nation's Report Card on reading revealed that only 37% of 4th graders were proficient in reading.  The tragedy is that most reading failure is unnecessary. We know that when students receive research-based instruction, 95% can become skilled readers.
Did you know that…….a student who fails to read adequately in 1st grade has a 90% chance of reading poorly in 4th grade (Gabrieli, 2009)?  Therefore, we must identify the warning signs of later reading challenges, including dyslexia, before 1st grade.
WHAT ARE SOME OF THE WARNING SIGNS OF DYSLEXIA?
Does your child have difficulty…
with articulation?

by mixing up sounds and syllables in longer words? 

naming familiar objects?

recognizing or writing their name?

learning the letters of the alphabet?

connecting sounds to letters?

rhyming?

with recall: Days of the week, colors, etc.?
Is there a family history of reading challenges?
If you answered yes to two or more of these questions, your child may be at risk for dyslexia.
SO……….WHAT SHOULD I DO?
Imagine building a house.  Every house needs a sturdy foundation, otherwise the structure will fall apart.  Reading is much like building a house, and the foundation of the reading house is Phonological Awareness & Alphabet Knowledge.
Instruction in Phonological Awareness & Alphabet Knowledge is necessary for all students to become skilled readers, but is critical for students demonstrating the risk factors of dyslexia.
The Dyslexia Toolkit is a research-based curriculum, which focuses on the foundational skills needed for skilled reading: Phonological Awareness & Alphabet Knowledge.

THE DYSLEXIA TOOLKIT……
IS GREAT FOR HOME & SCHOOL – Learning can happen anywhere. We designed our tool kit for use with both homeschool and classroom settings. The toolkit can be used in both one-on-one and group sessions.

INCLUDES FUN & ENGAGING MATERIALS – Your child deserves the most creative learning aids to address dyslexia. Our fully colored cards, games and bags are made of durable and long-lasting materials.

CAN BE USED BY CHILDREN OF ALL AGES – Although the Dyslexia Toolkit targets children ages 4 to 8 years old, older kids who struggle to read can also use it.

HAS EASY TO FOLLOW INSTRUCTIONS – There are no special requirements or training needed to be able to use these tools for teaching. Each kit contains a handbook with all the information you will need.  Better yet, once a student knows how to "play" these games, they can practice on their own.

IS A FANTASTIC VALUE – Did we mention that our tool kit is a fraction of the price of other curriculum?
WHAT'S INCLUDED IN THE DYSLEXIA TOOLKIT?
Information about Dyslexia and How the Brain Learns to Read

Easy to Use Instruction Manual

396 Picture Cards

50+ Game Boards w/ Playing Pieces

Fun Anytime, Anywhere Activities

Bags for easy Organization and Storage
WHAT ARE PEOPLE SAYING ABOUT THE DYSLEXIA TOOLKIT?
"I wanted to take a moment and thank you for creating such a wonderful resource in your Toolkit. I have been an elementary teacher for over 20 years.  I have found since working through the Orton Gillingham certification, I now approach teaching reading to students much differently than in years past.  Your toolkit has been incredibly helpful (and fun) in jumping into the specifics of brain training. My students really enjoy the various sets of activities!
I've purchased plenty of reading materials and games directed towards reading over my career. This kit has by far, been the one I've enjoyed using the most. It has also been one that my students have responded to again and again in a positive manner. Every elementary teacher should have this in their classroom. Every parent who has a struggling reader can easily learn how to help their children with these exercises. GREAT JOB!"
Evelyn MacLean M.Ed
Director – Impact Learning Center
CAN WE ANSWER ANY MORE QUESTIONS ABOUT THE DYSLEXIA TOOLKIT?
Q: Do I need an educational background to teach this toolkit? 
Absolutely not! Parents are a child's first (and often, best!) teacher.  Therefore, we created this toolkit, so that a parent can support their child's learning.
Q: What setting is the Dyslexia Toolkit intended for?
The Dyslexia Toolkit can easily be used at both school and at home.  The toolkit is ideal for both group or individual settings.
Q: Why is it called the Dyslexia Toolkit?
We thought long and hard about whether to include the word "Dyslexia", versus just "Reading Toolkit".  The reality is that ALL students need to master Phonological Awareness & Alphabet Knowledge to become skilled readers.  However, the most common cause of a child's early struggles in reading involves difficulties in Phonological Awareness, and…..we know that a deficit in Phonological Awareness is the hallmark of dyslexia.
Q: Can I use this toolkit for students who are NOT dyslexic?
YES! The foundational skills required to become a skilled reader are the same for all children.  However, those children with the warning signs of dyslexia, require more intensive instruction in Phonological Awareness & Alphabet Knowledge.
Q: Can a child use the toolkit on their own?
Once a student knows how to "play" the games, they can play the majority of them on their own.  The first few times, however, an adult will need to demonstrate.
Q: Can the toolkit be used by more than one parent/teacher?
The toolkit is designed to be used by one parent or teacher at a time.  Unfortunately, sharing materials often leads to lost materials.  
Q: What grade/age group is the Dyslexia Toolkit (Level 1) for?
The Dyslexia Toolkit (Level 1) was designed for children ages 4-8.  However, it can easily be used with children outside that age range.  
Q: What if my child is older and is struggling with reading?  Will the toolkit help?
The graphics on the cards and game boards associated with the Dyslexia Toolkit (Level 1) is intended for use with younger students. Therefore, the materials may feel "babyish" for a student over 8 years old.  If your child is over 8 years old and is struggling with reading, they most likely have a deficit in phonological awareness that needs to be addressed.  For our older students, who are struggling, we recommend starting with the Dyslexia Toolkit (Level 2), which will be available for sale beginning in June, 2019.  The Dyslexia Toolkit (Level 2) will still include phonological awareness instruction, but doesn't have the feel of "little kid" material.
Q: Why does the toolkit cost $279?
In order to make learning engaging and fun, high quality materials are a must.  Every game board and picture card that your student sees is printed in vibrant colors, and on heavy duty card stock so that it is long lasting.  Although we could have cut costs by printing these in black and white, or on lighter weight paper, we feel that kids deserve the best materials.  Also, we will mention once again, that our toolkit is a fraction of the cost of other curriculum.
Q: Can I order additional game boards or playing pieces?
Are you wanting additional game boards, in order to play games with multiple groups?  Did you happen to lose or damage a board?  We realize that there are many reasons why you may want additional boards.  Although we would love to be able to sell you individual, physical game boards, logistically it is not possible, as all the boards come in shrink wrapped packs so they are not damaged in transport.  However, additional playing pieces (puppet, magic spring, dice, bingo chips, and spinner) may also be purchased, as sets, on our website.
Q:  What if I don't like the Toolkit?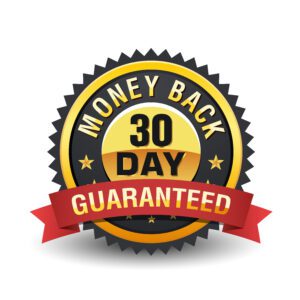 We have a 30 day money back guarantee! (Please see our returns policy for full details).        
Have more questions? 
If you still have questions, please do not hesitate to reach out to us at info@pdxreading.com, and we will make sure to get back to you as quickly as possible.
Help your child become a CONFIDENT and CAPABLE learner!
Add the Dyslexia Toolkit to your cart TODAY!
* Free Shipping is available only in the continental United States.  For customers in Alaska, Hawaii, and throughout the rest of the world, please use the calculated shipping rate found at checkout.