Description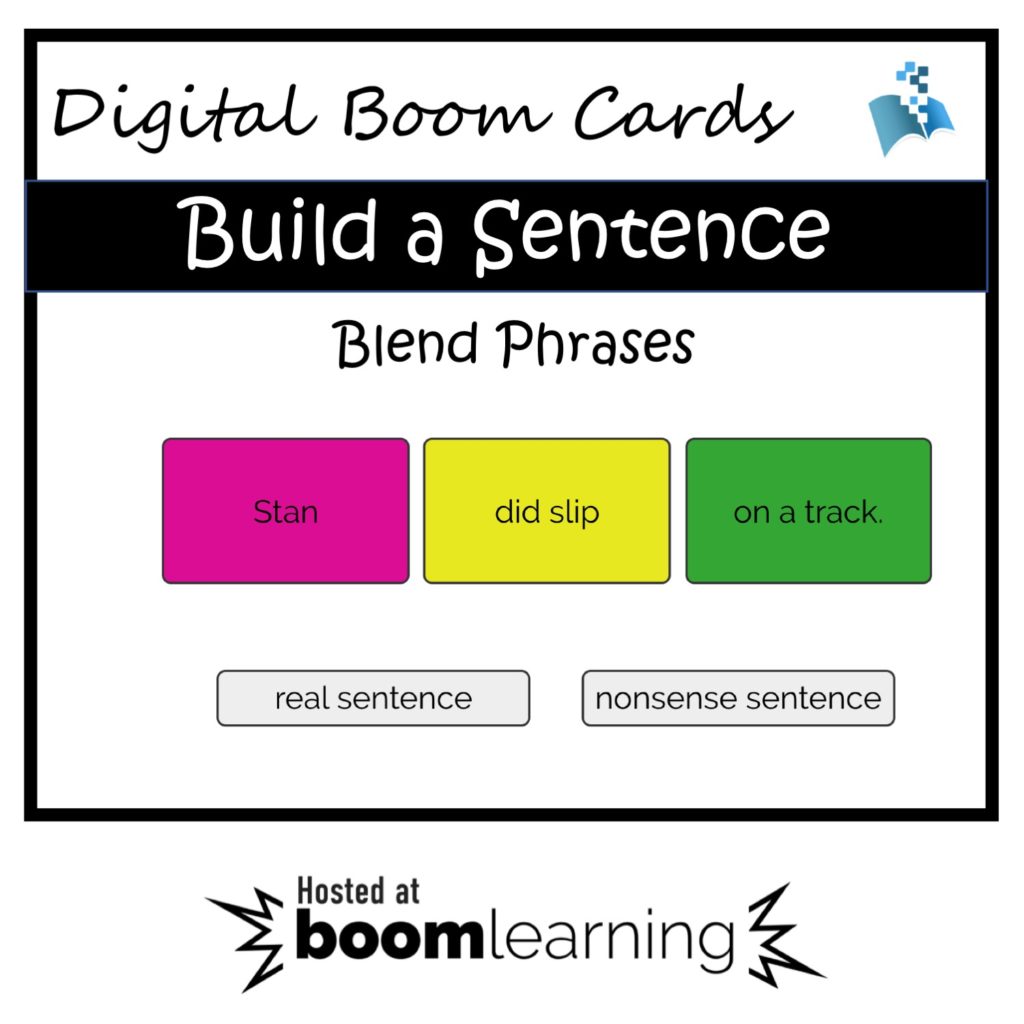 To become a skilled reader, a student must be ACCURATE and AUTOMATIC at reading words. This is called reading fluency. Reading fluency is made up of:
Rate (speed)

Accuracy

Expressiveness (phrasing, emphasis, timing)
Research has shown that to improve reading fluency, students needs lots of practice reading words, phrases and sentences. Our Build a Sentence digital BOOM Cards will do exactly that! And the best part…they are FUN!
Struggling readers will find success using our BOOM Cards because the amount of text isn't overwhelming. When a struggling reader is asked to read an entire story, they often feel overwhelmed. But with only a phrase on each card, success can be achieved!
New to BOOM?
To use Boom Cards, you must be connected to the Internet.

Boom Cards play on modern browsers (Chrome, Safari, Firefox, and Edge).

Apps are available for Android, iPads, iPhones, and Kindle Fires.

For security and privacy, adults must have a Boom Learning account to use and assign Boom Cards.

Once you click on the link in the PDF provided upon purchase, you will be directed to the Boom Learning site, where you will redeem your purchase.

With your purchase, users new to Boom Learning get a three-month free trial of student progress reporting for up to 150 students.

If you choose not to subscribe at the end of the trial, you will still be able to continue using Boom Cards with the Fast Play feature.

Fast Play is always a free way for students to engage with Boom Cards decks. However, Fast Play does not track individual progress.
How to Play

Why Use BOOM Cards?
Boom Cards can be used on computers, tablets, Smartboards, or other mobile devices.

This means they can access it at home, too!

Boom Cards require no prep!
Boom Cards are engaging and interactive.
Boom Cards are self-correcting, allowing students to fix errors on the spot.
Teachers can track student progress.
Students work at their own pace.
Help your child become a CONFIDENT and CAPABLE learner! Add the Build a Sentence Blend Phrases Boom Cards to your cart TODAY!